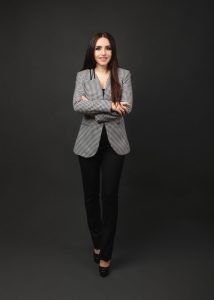 Dr. Melkumian has over five years of experience in dentistry. She completed her undergraduate studies at Far Eastern State Medical University and then went on to graduate from dental school at Rutgers School of Dental Medicine. She stays up to date on all new dental techniques and technologies by continuing her education every 2-3 months.
Dr. Melkumian is a member of the American Dental Association®, New Jersey Dental Association and the American Academy of Cosmetic Dentistry. She specializes is restorative and cosmetic dentistry to improve the function and appearance of her patients' smiles. She is certified in Invisalign® and SureSmile® clear aligner therapy and has received advanced training in:
Dental implants
TMJ
Sleep apnea
Neuromuscular dentistry
Therapeutic and esthetic applications of botulinum neurotoxin
Dermal & soft tissue fillers
Hiossen® implants
Bone grafting
Zoom teeth whitening
Dr. Melkumian has been practicing in New Jersey for over three years and has been at Dentologem for seven months so far. Her goal as a dentist is to educate her patients, improve their overall health and provide them with a smile they love.
Dr. Melkumian has a husband and two kids. In her free time, she loves spending time with them, cooking, practicing photography and going to the gym.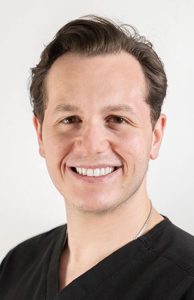 Dr. Swerdlof is extensively trained in providing state-of-the-art dental and periodontal care for over 10 years. He is able to treat all forms of periodontal problems and offers comprehensive solutions for patients with missing teeth with outstanding long-term success. He performs the full spectrum of oral and implant surgery such as periodontal plastic surgery, gum microsurgery, sinus lifts, immediate implant placement and bone grafting. Additionally, Dr. Swerdlof practices treatment of peri-implantitis, treatment of gum recession and bone regeneration utilizing:
Emdogain® Biologic Material
VISTA minimally invasive procedure technique for soft tissue grafting
JUVÉDERM® and Restylane® (hyaluronic acid fillers) for restoring youthful gum volume and eliminating "black triangles"
Dr. Swerdlof received his DMD degree at Rutgers School of Dental Medicine of New Jersey and was later accepted into the postgraduate program in periodontics, where he attained his specialty certification. In addition to his general and periodontal specialty training, he had interned in the oral and maxillofacial department of a multi-specialty hospital in Saint Petersburg, as well as a comprehensive dental program at the New York University to increase his proficiency in the vast scope of modern dentistry.
Through his comprehensive and thorough approach to consultations and treatment planning, Dr. Swerdlof is able to improve patients' oral condition, as well as their overall well-being. Each patient has his unwavering commitment to be a good listener and a dedicated practitioner with a pledge to clinical excellence.
Dr. Swerdlof believes periodontics is the most scientifically advanced dental specialty, offering new therapies that were not possible in the past. He feels privileged to be a periodontist and is looking forward to the opportunity to care for his patients and their families.